Abrasive Nylon Disc Brush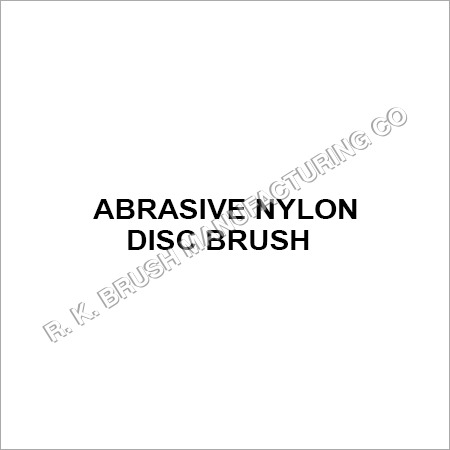 Abrasive Nylon Disc Brush
Price And Quantity
Piece/Pieces

10 Onwards INR
Product Description
This Abrasive Nylon Tube Cleaning Brush, which is the top pick among many different types of household brushes, is created using the highest-quality necessary materials with the aid of cutting-edge methods under the supervision of our specialists. The fibre widths, rough grain kinds, grating grain sizes, and grating stacking for this item are all different. It may control a specific area, bringing more brushy material into contact with the work item. Abrasive Nylon Tube Cleaning Brushes are available, however they are less flexible, which renders them more vulnerable to brush fibre wear and break.
Frequently Asked Questions
What is a nylon abrasive wheel used for?
It can be used to polish wood, maintain patina, and raise the grain on soft woods. It can also be used to remove minor rust. It is a flexible nylon brush that has been coated in grit.
What are abrasive brushes used for?
For light deburring, metal finishing, cleaning rust and oxides, defuzzing wood panels, and denibbing plastic, an abrasive brush is employed. Industrial brushes of this kind won't catch on the edges of cut metal. The majority of the time, treated wood surfaces are smoothed with a sanding brush.
Nylon Brush remove rust?
The 50mm Strip-It Wheel by Brumby is constructed of abrasive nylon that has been silicon impregnated. Any kind of surface coating, including rust, paint, graffiti, and corrosion, can be easily removed with it.
What brush is best for removing rust?
Almost any form of metal can be cleaned of rust using an abrasive nylon tube cleaning brush. A carbon steel wire brush can be used on surfaces and tools made of iron and carbon steel. On the other hand, stainless steel, copper, brass, and aluminium surfaces respond well to stainless steel wire brushes.